Using Touchpoint Custom Lists
Touchpoints can be used differently, depending on the organisation's Customer Journey mapping methodology. Admins can choose to enhance the options in Touchpoints by adding two Custom Lists that users can select from. This will offer a structured way of adding information to Touchpoints that matches your organisation's way of working.
Custom Lists can also be added to Insights, find out more about their set up and use here.
Jump to
---
Setting Up Touchpoint Custom Lists

As an admin in a Galaxy account, you can set up two Custom Lists for everyone in your account to use in their Touchpoints. To do so;
Go to Content Management in the top menu bar and select 'Custom Lists' from the dropdown

Use the menu on the left to navigate to 'Touchpoints' under 'Custom Lists'

You now have the option to create two Custom Lists

Give your Custom List a title using the top text field. Make sure you use a recognizable title, as the title will help users make the appropriate choices when creating their Touchpoints.
You can add as many list items as you like and choose a corresponding colour for all of these items. The name labels and colours will be shown to others when using the dropdown list, the colours will be visible when displaying Touchpoints in Milkymaps at different levels as well. Edits you make here will be visible to all others in the account immediately and are saved automatically.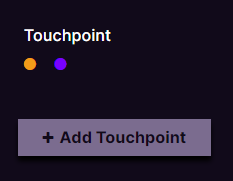 ---
Adding Custom List items in your Touchpoints

When creating a new Touchpoint or when editing an existing one, you can select one item per Custom List. To do so:
Either start creating a new Touchpoint or edit an existing one

Under the title of either Custom List, press to open the dropdown

Click the Custom List item you'd like to add to select it.

Press Save after adding the fields that are required in your organisation
---
\uD83D\uDCCB Related articles